"Actually seeing Mesut Özil go mental is quite surreal. Guy is personification of calm" - (Nerdyyy, 2011)
Let me tell you about what I felt while this was all happening (I didn't watch it live, was able to watch it a day after it happened).
Ate Dylan posted on my wall about Real Madrid's 6 yellows and 2 red cards. Never in my wildest dream did I expect Mesut Ozil to receive a red card. NEVER. AS IN NEVER.
With five minutes left in the game, I was wondering "why are there no red cards yet", truth be told, I'm already expecting Marcelo or Pepe or Sergio to receive one.
So when Marcelo received one for that foul on Cesc (oh my poor Cescy), I was not surprised. Then the outbreak occurred. I saw Mesut joining in the rumble, I was a bit shocked to say the least 'coz he was there (and a bit proud 'coz he was defending his club and teammates!).
*
in his stay in Real Madrid, he never got involved in fights, nor did he have a major say in any decision by the ref
*
part of it, I think is because he can't speak and understand Spanish that well yet
*
a large part is because, he's BAMBI. He never gets angry, he rarely complains, he's always calm and he's a bit shy. I will not be surprised if the classy Xabi gets yellow carded but if you tell me that Ozi got a yellow, I will treat it as a joke.
and then this happened:
It happened so fast. In the beginning I can see Ozil among the crowd, the next second the cameras were focusing on him. Even they knew how IMPORTANT seeing Ozi's wrath was.
Everyone (I'm pretty sure) became afraid of seeing him like that (is it the turkish blood-german mentality kicking in? Imagine Hitler and the Ottoman Turks' blood pulsating in his veins). Even the referees had to restrain him. It was sweet of Sami to try to pacify his friend. And Marcelo too :)
He became agitated when David Villa slapped him. I don't want to blame anybody but to make him THAT angry? DAMN. REAL DAMN. If only looks and words can kill) There are "rumors" circulating around that Villa said something offensive to him and now people are taking sides, even the issue of religion has been brought up (btw, I think he is in fasting mode). I do hope everything will be sorted out.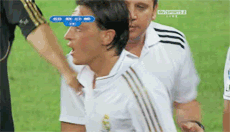 The thing is, do you know how I felt right after seeing Bambi's temper? My fingers began to shake, as in literally shake, I guess his anger reached my heart. Earlier in the first half, I was thinking about how I never heard Bambi receiving a yellow card in a game and I was wondering what would make him blow up. I clearly got my answer :|
Funny how before joining Real Madrid, Ozil's dream team was Barcelona. Imagine how happy I am seeing him in a RMA shirt and caring for his team! I can not wait for the next El Clasico in December!
p.s. Mou did his own mischievous act, poking the eye of Barca's assistant coach, Tito Vilanova (he received a spanking in return but managed to smile it all off).
and I can almost imagine
unamadridista's post
: In case you missed it: The Mesut Ozil edition
updated
:
Since this is an Ozil post, I learned from
una
that it all started when Villa pushed Ozil, afterwhich Valdes hit him and then that was when Villa slapped him (and said some insults too). Imagine if you were Ozil, how would you feel? Ozil only went there to help Higuain (I read this on twitter so it is not that accurate) or some of his teammates.